How does CyberSec work?
Let's start with the basics. When you wish to access a specific website (for example, NordVPN), you type its name into your browser (nordvpn.com). Press "Enter" and that's it – you're in.
And that's how your journey looks behind the scenes: The moment you enter the website's name into your browser, your device contacts a remote DNS server to request the IP address of that particular site. Only when the Domain Name System (DNS) responds, you are actually directed to the website.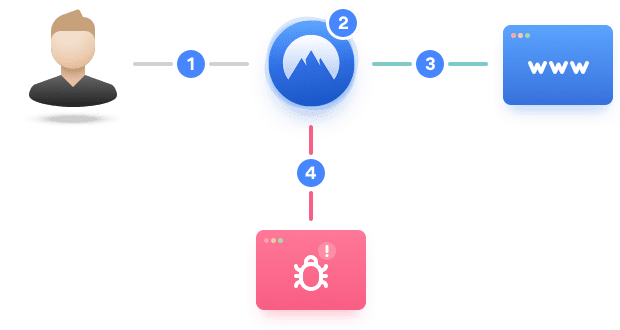 1. User request to website
2. DNS server
3. Access allowed
4. Warning about detected threats
Now here is where the NordVPN CyberSec feature comes into play. It checks a real-time block list of websites that are known for hosting malware, spyware, trackers, or other harmful software. So when our DNS server receives your request to enter a specific site, CyberSec quickly checks its address against the list of possible threats and decides whether to allow the access.
If CyberSec blocks the website, you will see a warning message and will not be able to enter the site or see any of its contents. However, if for any reason you wish to proceed, you can do it at your own risk. To do that, disable CyberSec in Settings of the NordVPN app.